August 1, 2008 at 1:22 PM
From Portage to Pig — Just Whistle!
What happens when a "a great opportunity" falls into your hands? You take it and run with it, says Vuong Loc, owner/chef of Queen Anne's Portage, who's given new life to Greenwood's long-lived Pig 'N Whistle.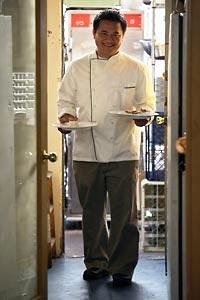 Vuong Loc, at Portage on Queen Anne. [Seattle Times/Thomas James Hurst]
Loc and his wife and business partner, Tricia, bought the place in June, gutted and remodeled it and will open for business this evening with a limited menu (smoked chicken wings! fried smelt with preserved lemon-mayo! roast suckling pig with braised cabbage and golden raisins!). Looking to go beyond the fine-dining confines of Portage — a tiny two-year-old restaurant that's gotten great acclaim, Loc cast his eyes about in search of a more casual venue where he could offer his take on comfort food and cocktails. (Yes, they'll serve burgers, fish 'n chips and bangers, plus lots of local beers on tap.) He says he lucked into the Pig 'N Whistle, closed since March, after the former owners lost their business — practically winning the restaurant lottery when other potential buyers were thrown over in his favor.
For now, Loc plans divide his time between his two restaurants, eventually leaving the Pig's kitchen in the hands of Portage sous-chef James McClain. Trisha Loc recently left her job running the food program at Zoka to manage the Pig 'N Whistle full-time, serving lunch and dinner. Tentative hours: Tuesdays through Sundays from 11:30 a.m. till the bar closes, with the possibility of brunch in the offing.
Comments | More in Restaurants