October 3, 2008 at 7:44 AM
Spinasse — you've got to see it to believe it
"Justin Neidermeyer looks like a boyish Pavarotti. His stage is comprised of white oak and Carrara marble, and Spinasse is his La Scala." So says my bosom-buddy Providence Cicero in her beautifully written, spot-on review of Spinasse, appearing in today's Ticket.
Having both eaten at and watched the young pastamaker at work on his white oak "stage" (transformed, come evening, into one of the most coveted seats in the house), I'd urge you to seek out his restaurant, too. It's a stunner:
Of course, he doesn't make all that handmade pasta alone. Sometimes he has help. If you recognize the guy below — Justin's bosom-buddy Jerry Corso — it's because he's usually tending the stove at Betty on Queen Anne, though you may also know him from the many nights he's spent behind the tapas bar at the Harvest Vine:
So, what's he doing at Spinasse? "Jerry's the only guy in town besides me who knows how to make plin," explains Justin" (though having eaten plin elsewhere in this city, I believe what he meant to say was "Jerry's the only guy in town besides me who knows how to make plin the correct way"). Jerry, by the way, is another guy to keep a close eye on: he's been hoping to open his own restaurant, too. I can't wait till he pulls it off, and that may not be too far in the future.
As for the close friendship between these two cooks, Justin says, "I imagine me and Jerry, about 70, sitting around a table making pasta, drinking grappa." Funny: that's exactly the way I feel about Providence Cicero, with whom I've made plenty of pasta. What's more, she not only turned me on to the great grappa-maker Jacopo Poli shortly after we met 14 years ago, but birthday-gifted me with — and helped me drain — this distinctively elegant bottle of vintage Poli brandy: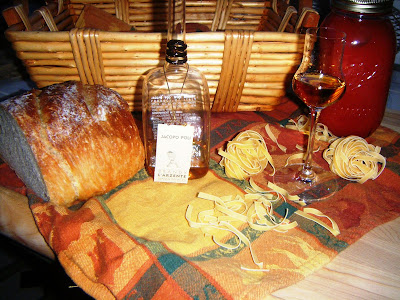 So, anybody else been to Spinasse? What do you think?
Comments | More in Restaurants