May 10, 2011 at 10:35 AM
Northwest Elite Football Camp coming June 10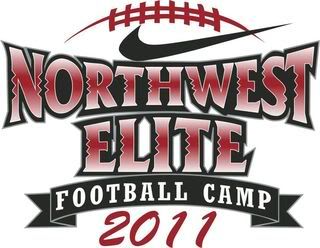 Here is a press release that was sent in about the Northwest Elite Football Camp presented by Nike, scheduled for June 10 at Skyline High School:
The NORTHWEST ELITE FOOTBALL CAMP presented by NIKE is the most prestigious camp in the Northwest, with numerous players having gone on to play college football at every level. The Northwest Elite Football Camp is unlike any other individual camp.
With 11 different universities attending, athletes will be instructed by the entire Pac-10 coaching staff from Washington State University, including Head Coach, Paul Wulff. In addition, head coaches Rob Akey (University of Idaho), Nigel Burton (Portland State) and Blaine Bennett (Central Washington) will also be in attendance, along with coaches from their staffs.
Boise State, Montana, Eastern Washington (D-1 FCS National Champs), Idaho State, Western Oregon, University of Puget Sound and Pacific University will also have coaches in attendance.
All the details about the Northwest Elite Football Camp can be found at jasongesser.com.
This is an exclusive event and space is limited. To ensure you get the best one-on-one training from the best college coaches in the Northwest, go to jasongesser.com and lock your spot up today!
By attending this camp, you will show that you are one of the best High School players in the West, while being coached by 11 different college coaching staffs. You will be in close contact with coaches and have the opportunity to connect with them and gain exposure with multiple colleges at many levels, as well as regional scouts from rivals.com and scout.com. *Please note – per NCAA rules, there is no testing (40-yard dash, bench press, etc) at the Northwest Elite Football Camp presented by NIKE.