October 14, 2009 at 12:54 PM
The chic confections of "Coco Before Chanel"
I have a great fondness for period-movie costumes, particularly those of the late nineteenth/early twentieth century; in fact, sometimes I leave a movie humming the costumes, so to speak. (I am convinced, to this day, that the exact same blouse appears in "Howards End" and "The Golden Bowl." It distracted me. And yes, I am aware that this is obsessive; sort of the silk-and-lace version of knowing Klingon, I guess.) Since period movies are few and far between these days, I don't get to geek out on costumes too often, but earlier this year I took great joy in Consolata Boyle's beautiful designs for "Cheri," worn to perfection by Michelle Pfeiffer. And this week came another great pleasure — the gowns of "Coco Before Chanel," designed by Catherine Leterrier and, of course, Madame Chanel herself. Look at this picture, and see what a difference a dress makes: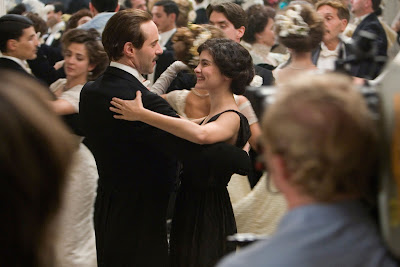 It's not the best shot of the dress (which is a lovely, subtle black gown with hints of sequins and lace — and which Chanel, in the movie, designs on a whim), but it perfectly shows the dress's effect: The other ladies, in their pale and elaborately frilled gowns and jewels, look overdone and fussy, while Chanel looks devastatingly chic. In many of the movie's scenes, Chanel sticks out because of her clothes: In her early years, because she could not afford elegant clothing, she would don borrowed menswear for parties, to elegant effect:


(Both photos by Chantal Thomine-Desmazures, courtesy of Sony Pictures Classics)
If you're interested in fashion, don't miss this movie, particularly the fashion show at the end at Chanel's Paris atelier. For costume geeks like me, it's a real treat, and should last us until the next period movie comes along.